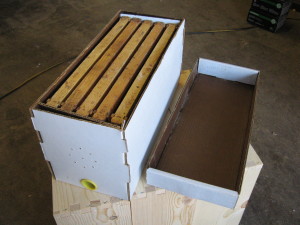 The Club will once again be ordering nucs from our Nuc Guy, Grant Stiles. Nucs are $170 and will be treated with Apivar (in the Nuc when received) and will come in a beautiful wooden box this year. The box can be used for swarm catching or a swarm lure.
You can reserve your Nuc with a $50 deposit.
We expect delivery late April at Ramapo College. All Nucs will need to be picked up the night of delivery. Please make arrangements if you cannot be there as all deposits will be forfeited if Nucs are not picked up.
Order today, as supplies are limited! You can place your order by contacting Bob Jenkins at 201-218-6537 or at the February meeting.