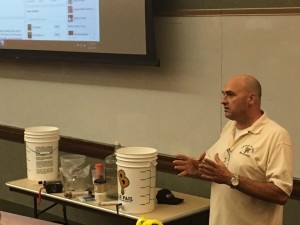 Mead maker Bob Slanzi presented mead making to the Northeast NJ Beekeepers at the October meeting. Here's his recipe:
Basic Mead Recipe
Combine 15 lbs of honey with water (approximately 3 3/4 Gallons) to make 5 gallons of honey solution in a 6 gallon pail.
Add yeast
Add 1 teaspoon of Go-Ferm Yeast Nutrient
Mix and cover
Set in an area where the ambient temperature is about 65 F.
Combine 3 teaspoons of Go-Ferm and Ferm-K Yeast Nutrients.
Feed the yeast 1 teaspoon of mix for 3 days
Stir the batch every 12 hours for about 5 days.
Transfer batch to a carboy with an airlock and monitor for desired taste and alcohol content.
Stop fermentation with sulfite, optional.
Clarify with Bentonite Clay or "Super Clear"
Bottle!