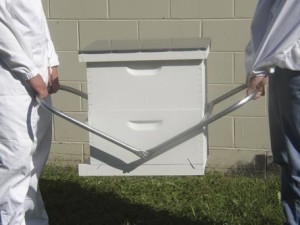 At our February Meeting Frank Mortimer and John Gaut went beyond the basics in beekeeping gadgets and showed us their favorite beekeeping tools.
Here's a list of their favorites, costs and where to find them:
Favorite Hive Top – English Garden Copper top allows for ventilation. Betterbee is the only company that sells this outer cover with the hole for ventilation and that's the key. $93.95
http://www.betterbee.com/wooden-hive-equipment-10-frame/acht10-american-copper-hive-top.asp
Slatted Rack – Great for overwintering and swarm control. Allows queen to lay in lower comb and provides for clustering which can reduce swarming. Install between bottom board and brood chamber. It also conveniently fits a tray underneath for easy inspection of hive droppings. Slatted rack Mann Lake $18.25. Varroa Debris Tray Betterbee $6.95.
http://www.betterbee.com/pest-management-and-medications/tray-varroa-monitor.asp
Favorite Hive Tool – Frame Lifter and Scraper (Italian) The best at lifting frames out of chamber. Best used two at a time. All Companies sell them, but Mann Lake has cheapest at $8.95.
https://www.mannlakeltd.com/shop-all-categories/hive-colony-maintenance/tools-and-hardware/hand-tools/10-1-2-frame-lifter-and-scraper
Least Favorite Hand Tool – Frame grip
Hive scale- Place an eyelet on the back of bottom board. Attach luggage scale to weigh hives. Wisefield on Amazon $12.99
https://www.amazon.com/dp/B01N9KEMBX?psc=1
Must Have Mite control tool – Mite alcohol wash is a must to count mites. Available through the club at meetings. $20
Best Gloves- Economy Venter gloves. Mann Lake $17.95
https://www.mannlakeltd.com/shop-all-categories/protective-gear/gloves/economy-vented-leather-glove
Best Helper – Cloth to cover top of chamber and frames to keep bees calm while hive diving. Any dishtowel will do.
Coolest Looking – Bee Belt to hold tools. Just like Batman, every beekeeper needs a good utility belt that holds everything they need. Countryfields out of Canada $85.
https://countryfields.ca/products/bee-belt
Nice to have around – Use Terramycin if diagnosed with American Foulbrood by dusting top bars. Grant Stile Stiles Apiary. 732-661-0700.
Best hive mover – The Brushy Hive mover makes moving the hives easy. Make sure to strap the components together first. Brushy $75
http://www.brushymountainbeefarm.com/Hive-Carrier/productinfo/935/
Bucket Blanket- When honey crystalizes the Betterbee bucket blanket does the trick.
http://www.betterbee.com/heaters-and-liquifiers/heater.asp
Handy – Bucket bench allows you to rest a pail in the Bucket Bench to allow honey to drain out into another bucket while you do other tasks.