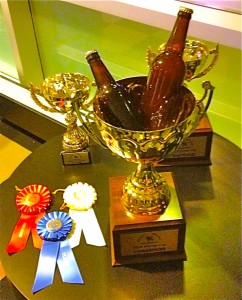 The Northeast New Jersey Beekeepers Association is hosting its annual honey-tasting competition at 1p.m. Saturday, Sept. 16, at Ramapo College in Mahwah and we are looking for your best honey of the year. Members are invited to submit their honey from this year's harvest. This year there will be 2 categories – light and dark. The board will decide which category to place your entry. Only 1 entry per a family is allowed. Honey must be in a 1 pound bottle with name, address and phone number. Honey should be handed in by 7:30 p.m. Sept. 15 either by dropping off at an officer's house or at the college the night before the competition.
A label contest will also take place.
We are also looking for members to sell their honey. Both pound and half pound jars can be sold. Prices will be consistent – $10 for half pound, $20 for full, with $2 and $4 respectively going back to the club. If you would like to sell your honey please email Jaimie Winters jaimw@aol.com to get on the list. Honey must be in by noon the day of the festival. Sellers will also have to work the table for part of the day.
Members are invited to sell bee-related items by emailing Jaimie Winters jaimw@aol.com.
We are also in need of volunteers to run the vendor tables, handle food, t-shirt sales, honey tasting tables and education table and set up and clean up. We need a lot of volunteers for this bigger event. Please email Jaimie Winters to volunteer.
Please invite family and friends to this free event. We will need as many tasters as possible. We will also have an educational table, and honey, plants and bee products for sale and live music.