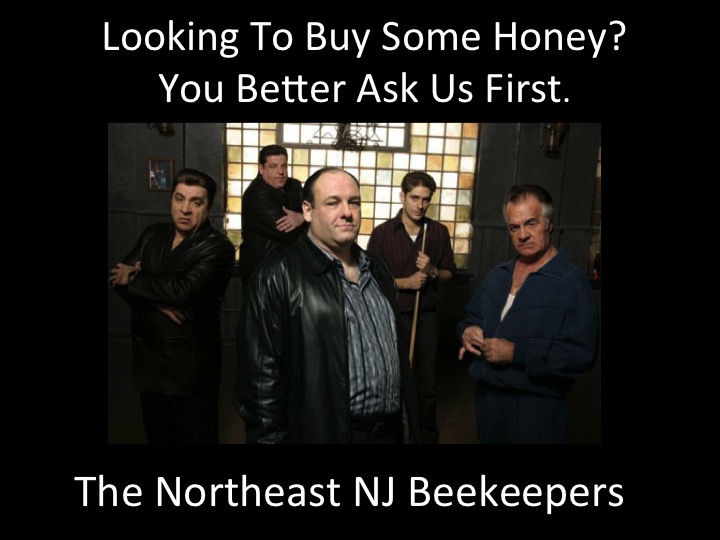 The Northeast NJ Beekeepers Association has compiled a list of its beekeepers who offer their local honey for sale.
Q: What should you expect to pay for Local Honey?
A:  Local, Raw, Honey from our hobbyists members is a labor of love and produced in small, all-natural batches.  Because of all the time and work it takes to produce 100% natural local honey, you should expect to pay $15 or more for a one-pound jar.
If you would like to try some local, all-natural, raw honey please contact your local beekeeper in the following towns:
Clifton 
Michael M. Miller 973- 908-8820 mike@millerbees.com
Dumont
Nick Griepenburg 201-701-1233 nick@gardenstatehoney.com
Fair Lawn
John Gostom 908-405-9504 jgostom@yahoo.com
Franklin Lakes
John Matarese (201) 481-5426 campgawbees@outlook.com
Haledon
Ivan Wei 201-688-0036 ivanwei88@gmail.com
South Hackensack
Kelly Palazzi at kstenographer@aol.com
Old Tappan
John Faivre  201-396-0751
Park Ridge
Srini Raj 646-657-9646 absrao@gmail.com
Pearl River, NY
John Foley 914-260-1540 jffoley60@gmail.com
Randolph
Janie and Reg Edmonds 973-895-899
Ridgewood
Frank Mortimer at frankmort@gmail.com or 201-417-7309
Rutherford
Warren Stroedecke  201-896-8999  wssesq@aol.com
Jaimie Julia Winters 551-486-7479 jaimw@aol.com
West New York
Pete MacIntosh 201 362-9282 p6017@aol.com
Wyckoff
Will Stonebrink 201-410-8648 Openroadws@yahoo.com